So, you've been chatting for a while on the network and keep hearing about this 'nickserv' and 'registering your nickname' thing? Confused? Fear not, I'm about to explain everything.
What is Nickserv?
NickServ is short for NickName Service. It's main use is protecting your nickname, and telling people that you are, well… you.
In this tutorial I'm going to register the name "JohnDoe", log into it, change it's password and then delete it again.
In this tutorial, anything written in italics are commands, underlined parts of commands are words that need changing.
Step 1: Registration
To register your nickname, there's a few things you need.
You have to use the nickname you want to register. – You can change your nickname by typing: /nick

JohnDoe

You need a valid email address.- You're on the Internet so there's a high chance you already have one. if you do not, however. Google has a nice email service.
The nickname can't already be registered.
First, you want to be on the chat, You should see something like this.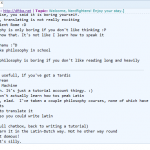 To make sure your password doesn't accidentally leak into the chat you want to open a private window with NickServ, you can do this by typing /query NickServ. After you did this, make sure the active tab at the top says NickServ.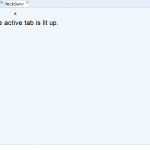 The most helpful command NickServ has is 'help'. To register your account you need to use the 'register' command. Let's ask NickServ how we do this, send the following command: help register.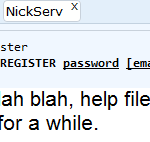 ok, so the syntax of this command is "REGISTER password [email]" First off, NickServ doesn't care about capitals, REGISTER register ReGiStEr and REGIster are all the same.
Let's go register our nickname. Think of a password that nobody would guess and then issue the REGISTER command. not that, although help register says email is optional, it isn't.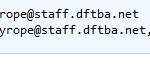 You should have gotten an email saying something like this:
Hi,

You have requested to register the nickname "JohnDoe".

Please type " /msg NickServ confirm JO8PTLguJ " into your IRC client to complete the registration.

If you don't know why this mail has been sent to you, please ignore it.

This mailbox is not monitored. Replies to this e-mail will NOT get responded to.

Thanks for using Nerdfighteria IRC
Speaks for itself, paste the 'confirm' command into your nickserv window. in this case: confirm JO8PTLguJ



Congratulations! You've registered your email and automatically logged in.
Step 2: Logging in
So now that you've got a registered nickname it's protected by nickserv. Anybody using that nickname that doesn't log in will get a Guest nickname after 60* seconds, including you.
To prevent this, you have to tell NickServ it's you. So, first off… make sure you're on your nickname. NickServ should give you a message like this:



Panic! Or wait, no need. you know the password. You did memorize your password, right? if you do, simply open up a private window with nickserv again and type the following:
identify password or id password for short
quick sidenote: you can contact nickserv with the /ns or /nickserv command as well, meaning you don't have to open a window with it. be aware though that if you forget the / or put anything in front of it, your message will be sent to whichever tab is open right now. (probably #YourPants, which means that about 25 people just read your password.)
Step 3: Changing your password
Changing your password is actually really easy. log into your account, open a window with nickserv and type: set password new-password
Step 4: Deleting your nickname
Getting annoyed of having to login every time? Not planning on returning to us? Sorry to see you go. Luckily you don't actually have to delete your nickname, it'll get deleted after 30 days.
But, if you insist, just give nickserv the drop command and it'll be deleted.
*: Can be configured, see part 2 when it's out.